You'll Love the New Townhomes at Vancouver Island's Kettle Creek Station in Langford, BC!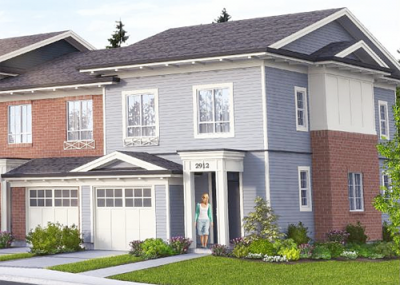 As though living on Vancouver Island isn't enough of an incentive, Kettle Creek Station in Langford, a bustling community near Victoria, is now offering townhomes to its residential community.
Featuring clean lines and simple aesthetics, the homes at Kettle Creek Station feature bright comfortable spaces, contemporary finishes, and thoughtful details. Their fresh architecture and exterior detailing imbue each home with a charming, timeless appearance.
In addition to the new single-family detached homes for sale at Kettle Creek Station, the developer is now selling eight brand-new townhouses. These bright, stylish homes for sale on Vancouver Island are affordably priced and feature many amenities. Consider the following 10 great reasons to buy a new home at Kettle Creek.
Very affordable $339,000 starting price, including net GST.
Three bedrooms and three bathrooms in each unit.
En-suite and walk-in closet in the master bedroom.
Quartz countertops, contemporary cabinets, and kitchen island.
Engineered laminate floors.
Stainless-steel kitchen appliances included.
One-car garage with remote door control included
Private patio and landscaped yard with sprinkler system
Three floor plans, starting at 1,283 square feet
Great location in Langford, BC, only 20 minutes from Victoria
To learn more about the beautiful new townhouses for sale at Kettle Creek Station in Langford, visit their sales centre or call 250.391.5880. You can also view floor plans, an interactive site map, or calculate your mortgage online.