Confused by BC's Forklift Training Regulations? Sign Up for IVES Operator Certification Training at WesternOne in Courtenay!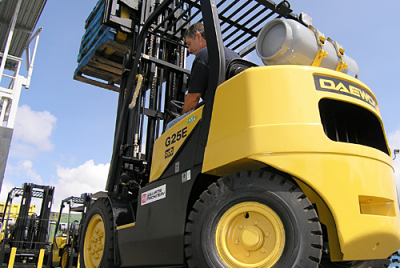 Are you confused by BC's regulations for forklift training and certification? You're not alone.
In simple terms, WorkSafe BC regulations state that employers must provide forklift training for employees. The actual guidelines are more complicated, however, so we've summarized them for you here. (If you prefer to read the regulatory information in its entirety, refer to OHS Section 16, Mobile Equipment and CSA Standard B335-94, Industrial Lift Truck Operator Training or click here.)
Section 16.4: Competency of Operators
1. A person must not operate mobile equipment unless the person:
(a) has received adequate instruction in the safe use of the equipment.
Section 16.7: Standards
(j) Lift Truck Operator training: CSA Standard B335-94, Industrial Lift Truck Operator Training
CSA Standard: 7.1.1 Frequency of Courses
Refresher courses shall be held:
(a) at intervals not exceeding two years; or
(b) in case of accident or incidents attributable to operator error.
In a nutshell, a license is not required. However, you must ensure that your employees have been trained to current standards and have the documentation on hand to prove it.
To make your life easier, WesternOne now offers IVES Operator Certification Training that includes theory, practical training, and evaluation. The training is a win-win for both employer and employee. When an employee successfully completes the training, he or she receives a certificate and wallet card. The employer, in turn, receives copies of all documentation, including theory and practical test records. To find out more, call Greg Phelps, IVES Certified Trainer, at 250.667.0665 or WesternOne in Courtenay at 250.331.0748.
WesternOne your one-stop shop on Vancouver Island for tool and equipment rentals and sales, is North Vancouver Island's only authorized Polaris ATV and Ranger/RZR Utility Vehicles dealer. WesternOne is also Vancouver Island's exclusive dealer for Polaris snowmobiles. Factory-trained and factory-certified Silver/Gold technicians are on hand for any servicing or repair need, and financing is available. For more information, call 250.339.4518 (local) or 1.877.339.4518 (toll-free). You can also use their Request a Quote online form.